06.04.21—08.06.21
Location: ARGOS website + ARGOS window display
Activating Captions
exhibition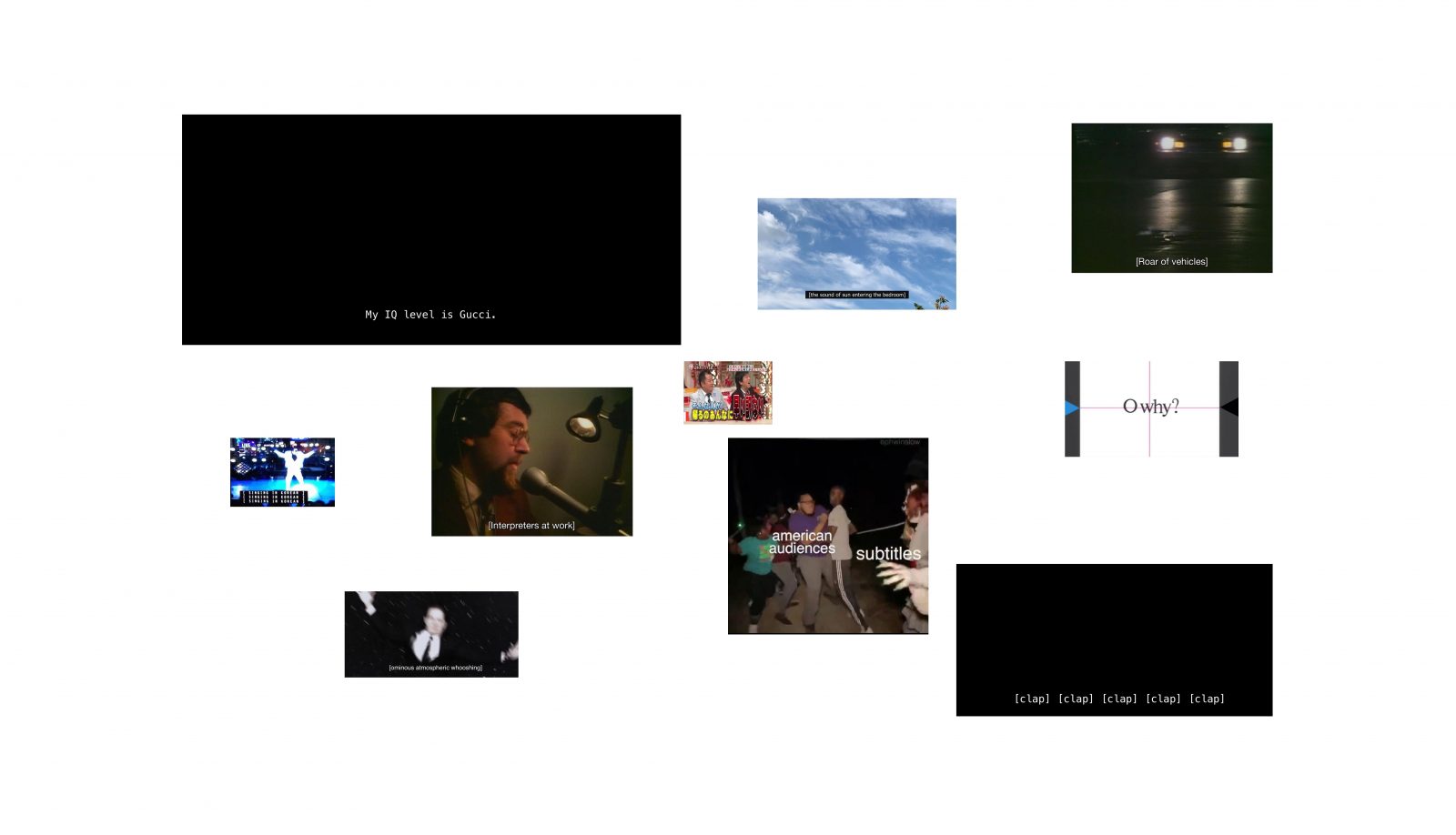 Image description: various images with captions on white background. The captions read from top left to bottom right: "My IQ level is Gucci.", "O why?", "[Roar of vehicles]", "[ SINGING IN KOREAN] / [SINGING IN KOREAN ] / [ SINGING IN KOREAN ]", "[ominous atmospheric wooshing]", "[the sound of sun entering the bedroom]", "[Interpreters at work]", "american audiences / subtitles", "[clap] [clap] [clap] [clap] [clap]".
Note: this is a predominantly online exhibition. To visit it: here.

This spring ARGOS presents Activating Captions, an online platform and physical window display that critically engages with captioning as a singular artistic form of expression. The project features artists' videos, newly commissioned texts, and a site-specific intervention by visual artist Shannon Finnegan on the façade of the ARGOS building.
Traditionally, captioning is the process of converting the audio content of a film, video, television programme, or live event into text and displaying this text on a screen, monitor, or other visual display system. Captions not only visualise spoken words, they also include speaker identification, sound effects, and music description. They are essential for the Deaf and Hard-of-Hearing, as well as numerous others, such as people who are learning a new language or those who watch captions for convenience reasons.
In recent years, however, a number of artists have taken a more active approach to captioning. These artists are searching for new ways to highlight and undo the shortcomings and inadequacies of this visual tool when employed in pop cultural and artistic contexts. They have been using captions to underscore this system's limited capacity to sufficiently make audiovisual culture accessible. In their hands, captioning – instead of a medium that straightforwardly communicates information – becomes a multi-layered, generative site for critical, poetic, and/or humorous interventions that at the same time explores its aesthetic value.
Activating Captions presents the work of artists for whom video proves an important setting to experiment with captioning. It additionally introduces new forms of media that question the assumption that audiovisual output is comprehensible for everyone. In doing so, Activating Captions underscores audiovisual culture's inherently exclusive nature, as well as its relationship to written languages, and imagines a new, more expandable future for it.
Artists: Alex Dolores Salerno, Alison O'Daniel, Amalle Dublon & Constantina Zavitsanos, Eduardo Andres Crespo, Carolyn Lazard, Jordan Lord, Liza Sylvestre, Park McArthur & Constantina Zavitsanos, Shannon Finnegan
Writers: Aline Remael, Andrew Fisher, Ariel Baker-Gibbs, Emily Watlington, Grégory Castéra, Niels Van Tomme, Raymond Antrobus, Sara Novic
Curators: Christine Sun Kim, Niels Van Tomme
Press:
argosarts.org/activatingcaptions
+
ARGOS window display
Koopliedenstraat 62 Rue des Commerçants
1000 Brussels

Activating Captions is organised by ARGOS centre for audiovisual arts in Brussels and is made possible with the support of the Nationale Loterij / Loterie Nationale and Brussels-Capital Region.