accessibility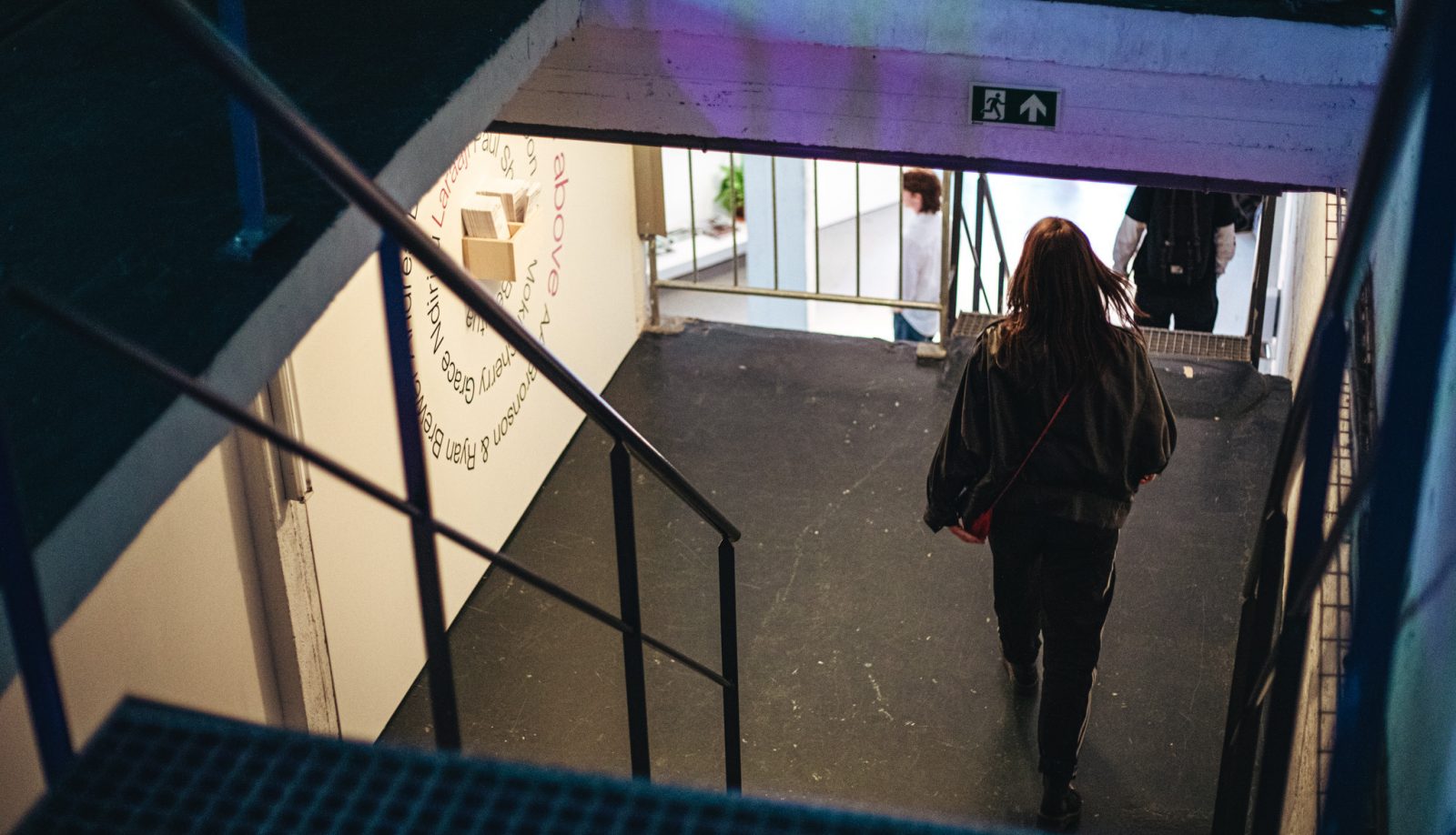 the building
wheelchair users: Visitors in a wheelchair can only visit the exhibition on the ground floor. The bar and rile* bookshop are also accessible to wheelchair users. The manned counter has not been lowered. The glass front door has no threshold and can be pushed open.
cloakroom: There is a cloakroom behind the counter where coats and bags can be stored free of charge.
scent-free: our spaces are not scent-free but the high ceilings of the ground and second floor provide good air circulation. Flagrance sensitive visitors and claustrophobic visitors should avoid the Box Formerly Known As on the first floor. This is an enclosed, dark, and windowless room measuring 4.70 by 6.60 m.
toilet: There are two gender-neutral toilets on the ground floor. They are currently not accessible to wheelchair users. Tampons and sanitary pads are available for free.
folding stools (without backrest): Mobile seats are available at the museum entrance.
communication
language: We aim for multilingual communication and try to provide our information in French, Dutch, and English as often as possible.
means: If a visitor finds a communication option inaccessible or inconvenient, he/she/they can ask for another one at the counter. Our team will look for a suitable solution. For example, if one cannot read the screens, captions can be printed out.
In case of shocking content, nudity, violent images, flashes of light, or flickering light, a note at the counter will warn sensitive visitors.
stairs
The first floor can be reached by two straight steel stairs (width: 1.20 m), with twice 15 steps (height: 21 cm) and a handrail (height: 1.20 m) for support. A 1 cm difference in height between the upper steps and the floor has been finished with a ramp.
The media annex(e) is a small mezzanine above the counter. You can reach this space via a stone spiral staircase (width: 79 cm) with 13 steps (height: 18 cm) and handrails (height: 1m). The wall here also provides support.
families with children
Toys are always available at the counter, and the bar menu caters to everyone. There is a folding baby care table in the restrooms. The stairwells are not suitable for unattended children, neither the stairs to our media annex(e) nor the stairs to the first floor: they could easily crawl through the railings.
tailor-made visit
We can organise a visit, with or without a guided tour, according to the specific needs of visitors or groups. Please contact us three weeks in advance.
companions and guide dogs
Companions of people unable or unwilling to visit the museum on their own may enter free of charge. Registered guide dogs are allowed but pets are not.


Deaf & hard of hearing
In consultation with the artist, we provide English captions for audiovisual artworks whenever possible. A paper transcription is available upon request.

pay what you can
Visitors pay the admission price that best suits their current financial situation.

contact

If have questions about accessibility at argos, please contact us. You can reach us via e-mail, phone (02 229 00 03) or in person during our opening hours.