06.09.20—20.12.20
Location: ARGOS + Horta Hall
Tony Cokes: If UR Reading This It's 2 Late: Vol. 3
exhibition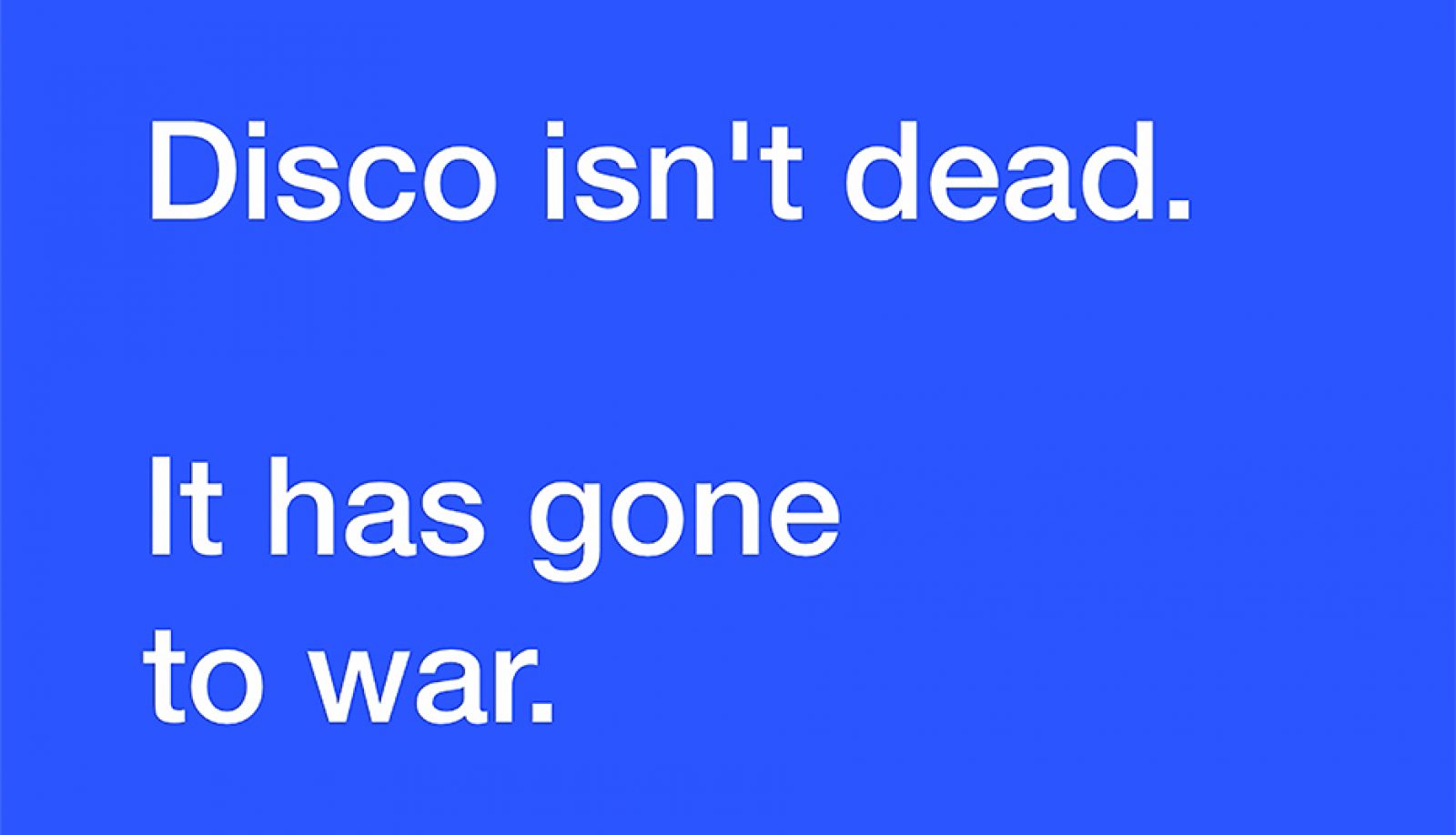 This fall ARGOS presents If UR Reading This It's 2 Late, Vol. 3, prominent US-based artist Tony Cokes' first comprehensive exhibition in Belgium. Beyond presenting a range of representative videos made since the late 1980s, it also features two newly commissioned artworks.
If UR Reading This It's 2 Late, Vol. 3 highlights Cokes' ingenious subversion of practices and discourses related to pop and electronic music, by focusing on the artist's works that connect popular culture, capital, and race. Named after a 2015 Drake mixtape, the exhibition foregrounds mixing as a key strategy in Cokes' practice. Much like mixtapes, the artist's videos are assemblages of existing tracks, alongside wide-ranging textual fragments, forging new meanings and insights through the unexpected merging of these elements.
Over the course of his career, Cokes has increasingly stripped-down film to its constitutive elements – image, text, sound – while engaging the complexities and ambiguities inherent to the medium. In his hands, film – one of capital's foremost mass media languages – is forcefully turned against itself. Through this tension, the artist emphasises its potential as a site of analysis and reflection while undermining its habitual claims to objectivity and truth.
Quoting a polyphony of voices, from Aretha Franklin to Morrissey, from Malcolm X to Louis Althusser, Cokes powerfully questions the notion of authorship. As such, he positions himself more as a "reader", or "editor" than as a traditional author, which allows him "to alter and reconstruct existing works to produce differential readings and effects."
In If UR Reading This It's 2 Late, Vol. 3, these "readings" and "effects" address a myriad of musical tropes – from the birth of minimal techno in Detroit to music used as a torture device in the US military. In doing this, the exhibition creates highly engaging flows of information and affect, while at the same time providing a contextual overview of one of the most vital filmmakers/remixers of today's cultural landscape.
In order to open up the exhibition towards public space, all videos featured in If UR Reading This It's 2 Late, Vol. 3 are simultaneously shown in a newly opened window display at Rue des Commerçants 62. This way, we are inviting the casual passerby to engage with Cokes' work.
Additionally, the exhibition consists of a special collaboration with the Brussels-based night club C12, in which the video Evil.80.Empathy? (2020), a reflection on the recent global Black Lives Matter protests, will be on view in the monumental Horta Hall in Brussels. This location functions as a public pathway between Brussels Central Station and the downtown area.
Co-organised by Goldsmiths Centre for Contemporary Art (28.09.2019–12.01.2020) and Carpenter Center for the Visual Arts at Harvard University (30.01–12.04.2020).
Tony Cokes:
If UR Reading This It's 2 Late, Vol. 3
ARGOS
Werfstraat 13 Rue du Chantier
Koopliedenstraat 62 Rue des Commerçants
1000 Brussels
Tony Cokes:
Evil.80.Empathy?
Horta Hall
Grasmarkt 116 Rue du Marché Aux Herbes
1000 Brussels

THE ARTIST:
Tony Cokes lives and works in Providence, Rhode Island, where he serves as Professor in the Department of Modern Culture and Media at Brown University. Exhibitions include Documenta X in Kassel, the Whitney Museum of American Art in New York, Whitechapel Gallery in London, the Institute of Contemporary Art in Philadelphia, the 10th Berlin Biennale, the New Museum in New York, REDCAT in Los Angeles, and the Louvre in Paris. Cokes' work is included in the collections of MoMA in New York, the Centre Pompidou in Paris, the Hammer Museum in Los Angeles, SF MoMA in San Francisco, and the Carnegie Museum in Pittsburgh, among many others. He has received grants and fellowships from the Rockefeller Foundation, the Guggenheim Foundation, the National Endowment for the Arts, the New York State Council for the Arts, the New York Foundation for the Arts, and the Getty Research Institute.
Check out the Tony Cokes publication If UR Reading This It's 2 Late, Vol. 1–3 here.