Confusing Drum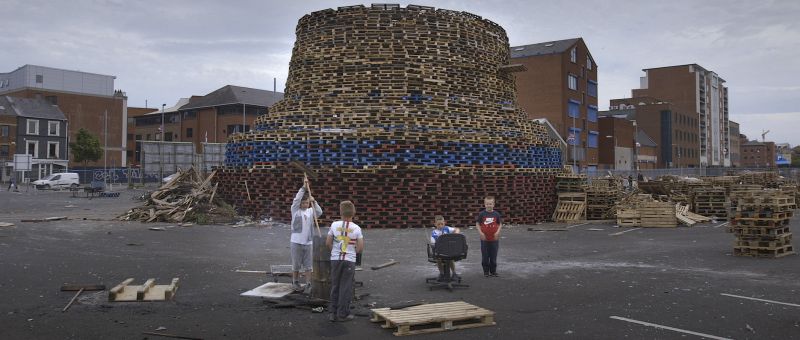 Artist(s)
Year
2016
Duration
00:11:05
Original format
DIGITAL FILE
Color
col.
Color system
PAL
Languages
Spoken: English UK
Subtitles: English UK
Availability
Distribution
Collection
In Belfast the night before July 12th – the annual Protestant celebration – massive bonfires are lit in many Protestant neighborhoods.

These towering structures, built months in advance, are mostly made up of wooden pallets and car tires with some reaching over 30 metres tall. During the days leading up to the Twelfth, young boys guard the bonfires to prevent Catholics from lighting the bonfires early.

After decades of conflict in Northern Ireland known as the Troubles "The Twelfth" is a particularly contentious period. The descendants of the Titanic's shipbuilders who put their engineering skills in building these short-lived structures see these bonfires as a celebration of loyalist culture. For others the bonfires are sectarian rituals and a powerful provocation.

The title is derived from a poem by Seamus Heaney "In Memoriam Francis Ledwidge". Written at the height of the Ulster Troubles, Heaney enters the mind of this Irish First World War poet: […] I hear again the sure confusing drum […].