17.03.22—01.05.22
Location: media annex(e)
Apparatus 22 : ART IS WORK
exhibition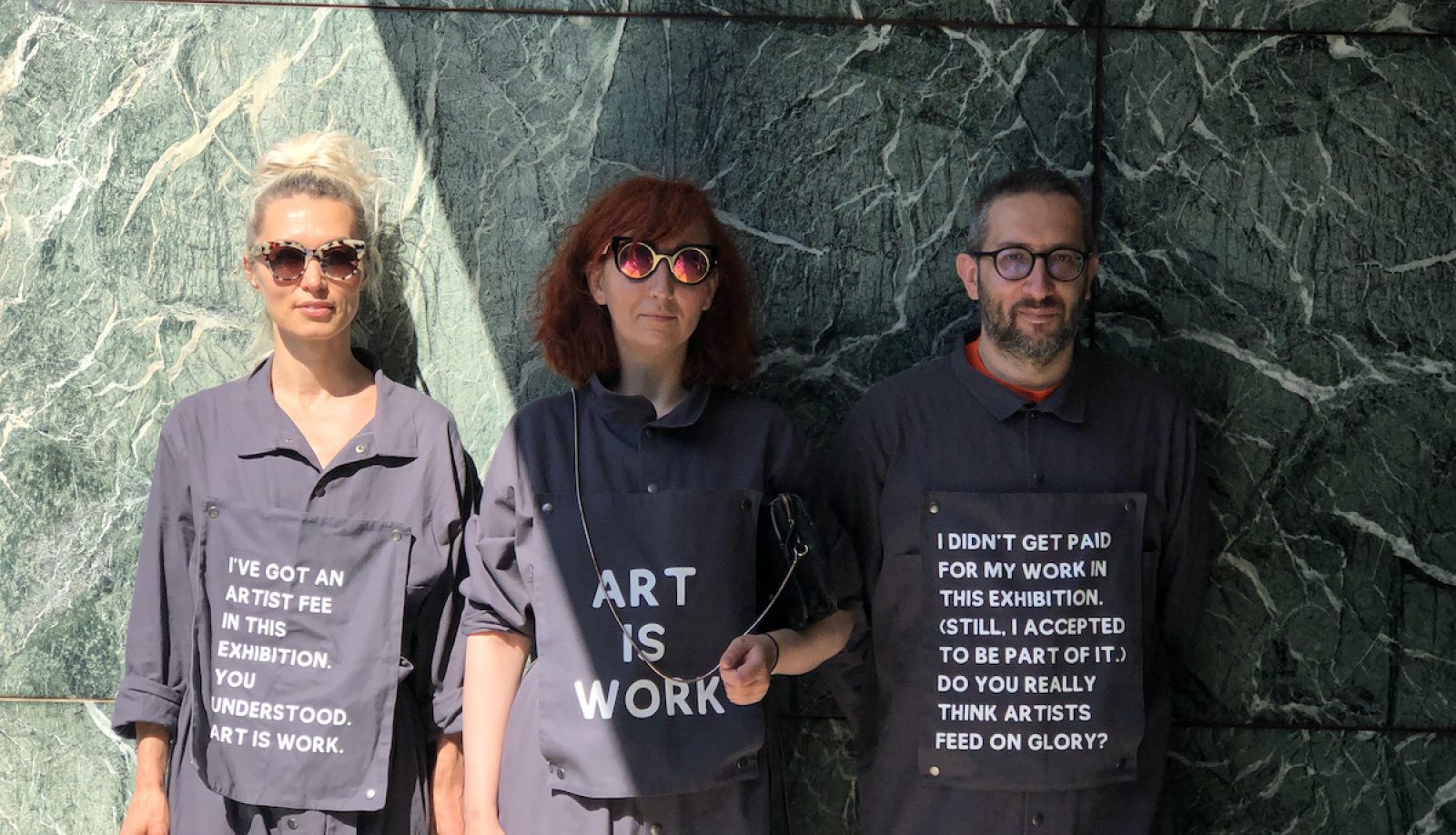 ART IS WORK has the Tuta as a starting point, a workman suit designed as a utopian garment for all people, for all situations, affordable, easy to sew and cut with minimal fabric wastage. It was first produced a century ago by Italian designer and artist Thayaht (Ernesto Michahelles, 1893–1959), best known for his involvement in the Italian Futurist movement.
ART IS WORK proposes ways in which art, politics, and economics could make use of fashion and clothing to build utopian programs. Apparatus 22 offers a new use and a new mission for the Tuta. In their hands, the suit becomes a tool to make visible and publicly discuss labour dynamics prevalent in the art sphere, which are oftentimes based on (self-)exploitation, as well as a level of precariousness that escapes oversight.
The recognition of remuneration of the labour of artists and curators — or, more often, the lack of this recognition and its quantification — becomes the central theme in two sets of statement-uniforms to be used at openings, the most celebratory moment for both artistic and curatorial work.
ART IS WORK makes a number of these suits available for artists and curators to wear. In doing so, they become a currency for developing an ongoing video archive, and a pretext for a comprehensive dialogue within the artistic community. The trade-off is simple: those who want to wear one of the two uniforms on display at ⓐⓡⓖⓞⓢ agree to answering one of the three following questions:
Why do you think art/curating is work?
Why is contemporary art vital for society?
Do you have a dream relating to / do you imagine new support structures for art? (maybe beyond money)
With Erika Olea, Amandine Faugere, Dragos Olea. ART IS WORK was created in collaboration with Kunstenpunt. Application forms and more information on the exchange will be available at 𝕒𝕣𝕘𝕠𝕤.
About the artist(s)
Apparatus 22 is a transdisciplinary art collective founded in January 2011 by current members Erika Olea, Maria Farcas, Dragos Olea together with Ioana Nemes (1979 - 2011) in Bucharest, Romania. Beginning with 2015 they are working between Bucharest, Brussels and SUPRAINFINIT utopian universe.
They see themselves as a collective of daydreamers, citizens of many realms, researchers, poetic activists and (failed) futurologists interested in exploring the intricate relationships between economy, politics, gender studies, social movements, religion and fashion in order to understand contemporary society.