Location: Center for Contemporary Art Tel Aviv
Figures of the Body @ VideoZone 2006
screening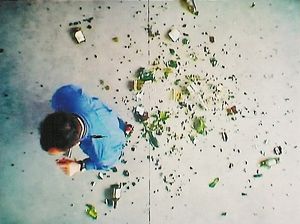 From its distribution catalogue and its larger archive collection of artists' video and film that contains more than two thousand titles, argos for VideoZone compiled two thematic programs gathering both Belgian and international works that mostly have been made over recent years: Disembodied Voices and Figures of the Body.
Program II - Figures of the Body
In experimental film and video, the body as a kind of first subject matter has always held a prominent place. Figures of the Body gathers different approaches to the body, in a number of cases with the artist featuring before the camera: mirroring, instability, stop motion, absurd action, 'self-portrayal' and more. Nine corporeal explorations, nine mental stances.

Location:
Center for Contemporary Art, Tel Aviv