Location: ARGOS vzw , ARGOS vzw
Grinding away at the boundaries. Recent videos from Belgian Visual Artists
screening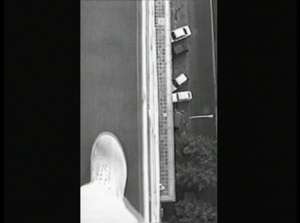 Festival NEUSIS – Primi Racconti Internazionali Dell'Altro Cinema, URBINO, ITALY

with Ann Veronica Janssens, Harald Thys, Sophie Whetnall, Gert Verhoeven, Peter De Cupere, Charley Case, Frank Theys, Bernard Gigounon, Stéphanie Hamaide, Michel François, Ria Pacquée


argos has a strong affinity with the visual arts. In its gallery space, 3-4 exhibitions are taking place yearly. This affinity is reflected in the program of the annual argosfestival and in the part Belgian Focus which zoomes in on the recent Belgian audio visual production. One of the remarkable points in this section are the experimental videos made by visual artists. Artists like Ann Veronica Janssens, Gert Verhoeven or Michel François do not want to limit themselves to one discipline. They use all sorts of materials and a range of methods, combining drawings, paintings, industrial and natural objects, photographs and installations into a result that appeals to all of our senses. This is a selection of recent video works made by Belgian visual artists.
ANN VERONICA JANSSENS

Sans Titre, 1958 – 2003
Video, b/w, non spoken, 52'' (loop), 2003
Prod: Ann Veronica Janssens

For this film Janssens made use of historical b/w film material about the demolition of a construction (the 'Pijl' - the Civil Engineering Pavilion) by the architect Jacques Moeschal, which had been set up in Brussels in 1958 on the occasion of the World Exhibit. Because of the way the material was edited – acceleration and reversal of the film in combination with marching music –the often misplaced and manic urge for renovation of the fifties, as opposed to the contemporary realism, is criticised and even ridiculed.

Ann Veronica Janssens (1956) was born in England and she's living in Brussels. Perception, experience, space, emptiness, time, (im-)materiality and infinity are the key notions of her minimally inspired work – sculptures, videos and installations. She often makes use of light, how it moves, is refracted or stopped. Her work has been shown, among others, during the Venice Biennial, MuHKA (Antwerp), the Neue National Galerie (Berlin), SMAK (Ghent) and the Centre for Contemporary Art in Warsaw, Poland.

HARALD THYS

Crotus Pilarus
Video, colour, non spoken, 14', 2003
Prod: Bunkerhotel vzw

This video is a cool and minimalist observation of a house, its various rooms, the discussions between two men and a woman. The camera functions as a silent voyeur; it keeps its distance, carefully framing empty spaces, lifeless ornaments and human presence. Here man is but an element within its physical surroundings, a sign of life, a bundle of emotions. The spectator is looking in the soundless spaces, faces and actions for a story, a feeling of drama which surpasses the trivial. The images contain a kind of emptiness, without past nor future, yet simultaneously creating expectations. Moreover, the gaze of the camera is never innocent, it guides our perception and it stimulates our imagination.

Harald Thys (1966) lives and works in Brussels. He studied at the Sint-Lukas institute in Brussels and the Jan van Eyck Akademie in Maastricht. With a twisted sense of humour he outlines situations and characters on the border of alienation in his visual work, his installations and videos, most of which he makes in collaboration with Jos De Gruyter. His work has been shown, among other places, in the EOF gallery (Paris), de Singel (Antwerp), the Middelheim Museum (Antwerp) and the Kunsthalle Basel.

SOPHIE WHETTNALL

Pong 1972
Video, colour, non spoken, 1' 22'', 2003
Prod: Sophie Whettnall

An immobile image of a tower, the starting-point for two cable lifts. At an accelerated pace the cabins can be seen coming and going, meanwhile aeroplanes keep passing by. Each movement is amplified by an electronic sound, seemingly causing the scene, which covers day and night, to take on the form and dynamics of the primitive computer game Pong (from 1972). Whetnall plays around with the idea of time and perception, supplying the images with a renewed, artificial context.

Sophie Whettnal (1973) lives and works in Brussels. Her work comprises photography, video and multimedia installations. She was a resident in the Hangar in Barcelona (2001-2002) and she has exhibited in The Video Art Foundation (Barcelona), Flagey (Brussels) Video Underground Zero (Toronto) and the Caermersklooster (Ghent).

GERT VERHOEVEN

Bustutai
Video, colour, English spoken, 13', 2003
Prod: Gert Verhoeven

In 2001 Gert Verhoeven presented The Blob. This video is an account of the World Pumpkin Confederation Contest in the United States. The style is similar to a documentary, but it is extremely fragmented for lack of a storyline or any clarification. We keep being undergoing astonishing images of gigantic pumpkins, constantly being subject to curious tests and manoeuvres, meanwhile a voice-over makes dubious and rambling comments. With a strong degree of tongue-in-cheek and cynicism Verhoeven insinuates a parallel between the absurd rituals of this competition and the mechanisms in which all the objects in the socio-economical system –as well as the art world – are being treated and traded. The sequel, Bustatai tells the same story in the same ambiguous tone, but now it is situated at the Giant Pumpkin Contest in Japan, which adds an extra dimension. Referring to themes like globalisation and post-colonialism, question marks are being placed behind traditional worldviews and patterns of expectancy. Is this a typically Japanese, simplistic simulation or is there more to it than that ?

PETER DE CUPERE

The Collector's House
Video, colour, non spoken, 12' 30'', 2002-2003
Prod: Peter De Cupere

The Collector's House is the first part of a larger concept, spread out over several years, named The Collector's Life. The videos depict the life of a contemporary art collector who tries to live with art as an implement. In this work scent is a central theme. Peter de Cupere reacts to the disappearance of odours in society and their misrecognition in contemporary art. His visual work is complemented by an olfactive dimension, in order to penetrate deeper into the uniqueness and the complexity of objects and spaces. Even though the so-called 'sniff movies' are usually represented in an environment where the nose of the visitor is being put to the test, the purely visual screening also insures subjective and personal odorous experiences. Thus the collector in the video takes a wine bath, he lets himself boil down on a mattress and he has breakfast at a table where 130 Herve cheeses are drying. In an ironically poetic way questions are raised about the experience of contemporary art and it is shown that a scent-free society is an illusion.
Peter De Cupere (1970) lives and works in Antwerp and Berlin alternatively. He studied graphic and electronic design at the Phiko institute in Hasselt and the Sint-Lukas institute in Brussels and visual arts at the HISK in Antwerp. De Cupere associates his world of objects, his video work, performances and installations with scents, as an extension of their meaning. Their have been possibilities to see and/ or smell his work, among other places, at the SMAK (Ghent), Le Lieu Unique (Nantes) and the Akademie der Künste (Berlin).

CHARLEY CASE

(Man walking)
Video, colour & b/w, non spoken, 2'43'', 2004
Prod.: Charley Case

In (Man walking) nothing but the feet and legs of a man are shown, inexhaustibly walking through deset, mud, rivers, over rocks and mountains, asphalt and sidewalks and over a city rooftop, where he ultimately loses his balance and drops down to the ground. The sequence might be seen as a story, unfolding itself between life and death.

FRANK THEYS

Self-Portrait
Video, colour, non spoken, 3' 16'', 2002
Prod: Votnik

A man keeps walking up and down from his computer to his window. He does not have a head. Blood is rhythmically gushing from the gaping wound, a hilarious and metaphoric self-portrait of the author. This video was shown on five screens spread out over the city of Courtrai (Belgium) for the Beeldenstorm exhibition and was used by Walter Verdin for his Title Safe project.

Frank Theys (1963) studied philosophy and fine arts and he lives in Brussels and Amsterdam. He works as a video artist, documentary, film and theatre maker. His work is characterised as a combination of melodrama and a scientific approach: a medical fascination on the one hand and a psychological interest in human world views on the other. His video work has been exhibited, among other places, at the Museum of the Moving Image (New York), Galerie Transit (Malines) and the Paleis (Antwerp) and he has been awarded, among other things, with the title of Cultural Ambassador of Flanders (as a managing director-in-residence with Victoria theatre).

BERNARD GIGOUNON

Looking Up
Video, colour, non spoken, 2', 2003
Prod : Bernard Gigounon

Looking Up is, as Gigounon puts it himself, a trip through time and space between the astounding and reality.
The short video starts with a sky at night, accompanied by the mesmerising sound of an army of crickets. We look up, as the image evolves very slowly it becomes clear to us that the thing we thought to have seen is not actually what it was, or is. A starry sky turns into a collection of tree tops. We find ourselves in the middle of a wood, where intricate sunbeams ray on through the enclosing leave rooftop. Gigounon's 'game' in Looking Up misguides us in an astonishing way. Starry skies, the piercing rays of sunlight of a rising sun, nothing is what it seems, or is it? In spite of its short length, this video has a metaphysical feel to it.

Bernard Gigounon (1972) works and lives in Brussels. Through limited technological means and the use of seemingly trivial materials, he usually unveils poetic and subtle miniatures. His videos have been shown, among other places, during the International Filmfestival Rotterdam, the Videolab Festival (Turin), Impakt (Utrecht) and in the Galerie des Beaux-Arts (Marseille).

STEPHANIE HAMAIDE

Hors-Champ
Video, colour, non spoken, 3', 2002
Prod : Stéphanie Hamaide

The exploration within the studio achieves a very thought-out execution in 'Hors-Champ'. A measuring rod slides underneath the camera, fixed in a specific location in the workshop, until it bumps into an object. On screen we see the numbers on the measuring rod, at every collision point they are tagged with a 'Post-it' where the name of the object is noted. In this way, the distance of the objects in the space is measured with regards to the steady camera image. This action is repeated in the four directions of the workshop.

Stéphanie Hamaide (1976) lives and works in Brussels and she studied at the ERG. In her studio she devoted herself to the making and examining of simple, minimal mechanical systems. Her videos have been shown, among other places, at the International Filmfestival Rotterdam, Impakt (Utrecht) and Courtisane (Ghent).

MICHEL FRANÇOIS

Tournoiement
Video, colour, non spoken, 7', 2002
Prod : Michel François

The camera at the other end of the plank. And let the scene turn. And let the artist move. Upside down at times. Installation (the video displays its installation character). Amusement ride, of course. With all the thrills and the heart's elation. Let the merry go round. And the artist changes positions, moves in the other direction and the whole set is turned around.

Michel François (1956) lives and works in Brussels. He combines industrial and natural objects, photography and installations. In his work he conceives his personal perception on reality, he analyses everyday images and actions, tracing for the unexpected, the beauty and the familiar. "L'art, de toute façon, c'est la vie que l'on sculpte" , François says. His work has been shown, among other places, in the Centre Pompidou (Paris), the gallery Carlier-Gebauer (Berlijn), the Venice Biennial, the Kunsthalle Bern and the Haus der Kunst (München).

RIA PACQUÉE

Cantaert Hunter 8906020
Video, colour, non spoken – niet talig, 3'06'', 2003
Prod.: Ria Pacquée

Vox Clamans in Deserto
Video, colour, non spoken – niet talig, 4'52'', 2003
Prod.: Ria Pacquée

The work of Ria Pacquée contains narrative aspects, firmly rooted in a social awareness, which do not seem to take shape until the final stage of the editing. In Cantaert Hunter 8906020 we see Pacquée on the run, rushing through a cornfield, with corn leaves mercilessly hitting her in the face. Vox Clamans in Deserto is a combination of filmed reality (blood pouring away after a ritual slaughter in Moroccan Medina) and performance (Pacquée throws sand at her face), the images obtaining a symbolical connotation – the red objects in the film symbolize death and war.
Location:
argos

Entrance fee:
free