24.02.21—24.02.21
— 14:00—16:00
Locatie: Zoom
PAM p.m. 3 by Auguste Orts and Courtisane
gesprek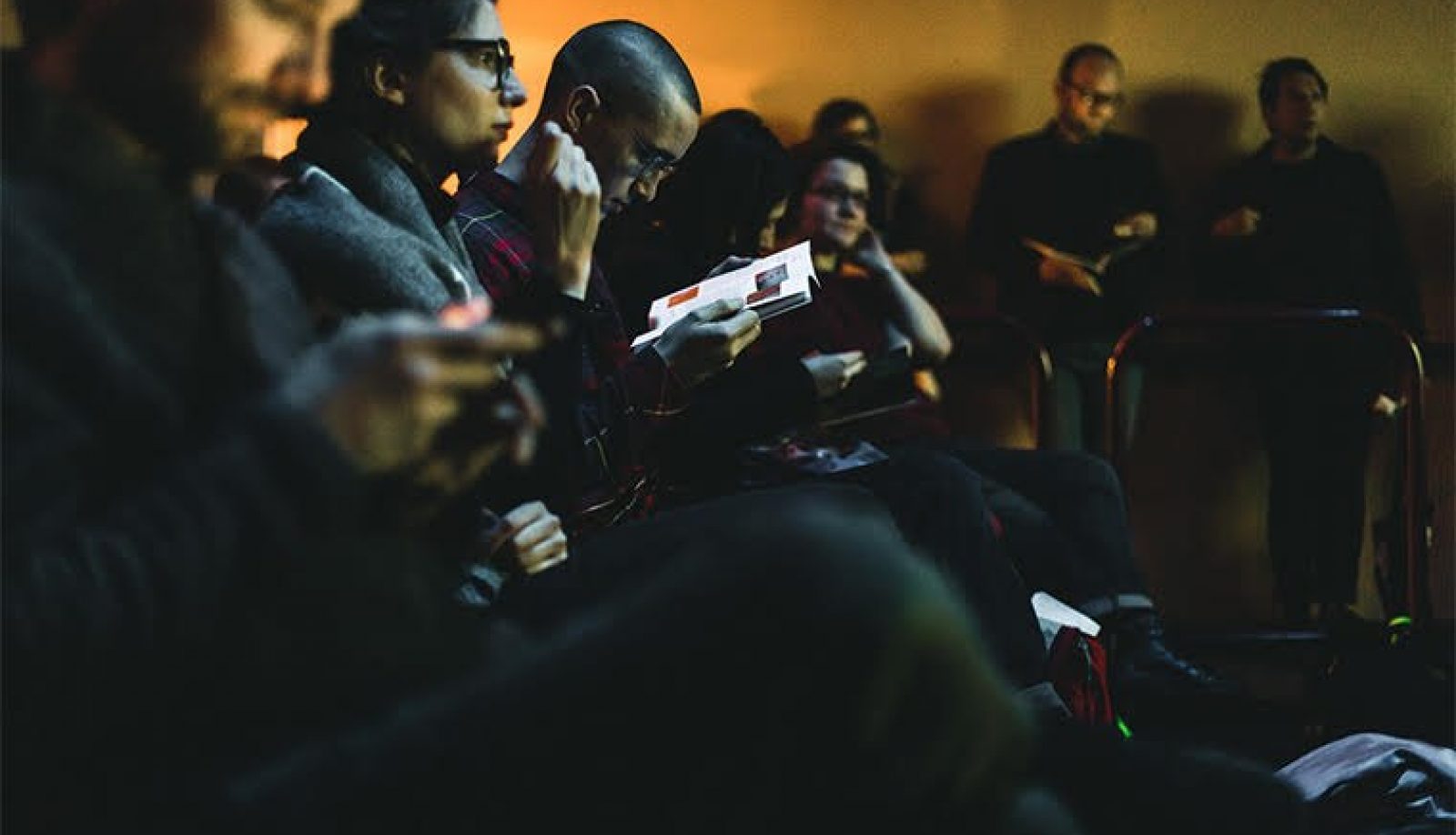 Third session of the informal meetings between peers from the audiovisual, sound, and media arts community.
PAM (Platform for Audiovisual and Media arts) shares knowledge about the development, production, distribution, presentation, and reflection of audiovisual and media arts. With this aim we started PAM p.m, gatherings where this exchange can take place in an informal setting. Pieter-Paul Mortier (Courtisane, KASK) and Marie Logie (Auguste Orts) assembled a group of well-versed conversation partners ranging from producers to curators, artists and filmmakers, at your
service.
Sofia Dati has recently been appointed visual and audiovisual arts programmer at Beursschouwburg, Brussels. She has been part of the curatorial team in WIELS, Brussels, since 2019, where she is currently curatorial assistant for the group exhibition Risquons-Tout. Sofia studied Literature at La Sorbonne Nouvelle Paris 3, Cultural Studies at KU Leuven and Curatorial Studies at the Fine Arts Academy in Rome, and has written for the magazines Po&Sie, Arshake and Conceptual Fine Arts, among others.
>>> language: Français & English
Fairuz Ghammam is fully living the European dream as a visual enthusiast in film and in print. She wonders how to change the world and hopes to find an answer as soon as possible. Luckily she grew up with the knowledge that patience is the key to happiness. She graduated as an experimental filmmaker and works as an editor, cinematographer and director in cinema beyond genres and formats. She equally loves well balanced steady high-def shots and lo-fi trash, as well as analogue visual experiments, as long as the poetry shines through. She teaches at the Film and Media Arts departments of LUCA, Brussels and KASK School of Arts, Ghent.
>>> language: Nederlands, Français & English
Jelena Juresa is a visual artist, filmmaker and a postdoctoral researcher at KASK School of Arts in Gent. She has been extensively working with the questions of cultural identity, gender, politics of memory and oblivion through film, video installation, photography and text. Her work has been exhibited internationally, including her solo exhibitions at Argos centre for audiovisual arts, Künstlerhaus, Halle für Kunst & Medien, Graz and Museum of Contemporary Art, Belgrade. Her latest film project Aphasia, which detects a thread of positions of power, racism, injustice and violence from Belgian colonialism, Austrian anti-Semitism and the atrocities in Bosnia during the Yugoslavian wars, was produced by Argos centre for audiovisual arts in Brussels.
>>> language: English
Marie Logie is the coordinator of Auguste Orts, platform for production and distribution of artists' moving image. She worked at the documentation department of Cinematek Brussels, the media department of M HKA Antwerp and the audiovisual department of Flanders Arts Institute. She is a co-founder of Courtisane festival and she currently represents FilmLab producers at the consultation committee of the Flanders Audiovisual Fund.
>>> language: Nederlands, Français & English
Pieter-Paul Mortier is the artistic and financial coordinator of Courtisane. He studied Audiovisual arts at Sint-Lukas Brussels and Media at Sandberg Institute Amsterdam. He was one of the co-founders of the Courtisane festival. From 2005 till 2010 he ran a course Non-narrative Screenplay at Sint-Lukas Brussels and since 2014 he teaches Theory of Media Arts and Dossier at KASK / School of Arts in Ghent. From 2005 until 2013 and in 2019 he was curator Arts and Media at STUK arts centre where he curated nine editions of the Artefact festival, a series of programs on sound & sound art Displaced Sounds (with K-RAA-K and QO-2) and many solo exhibitions.
>>> language: Nederlands & English
Born in Dakar, Rosa Spaliviero lives and works mainly between Brussels and Lubumbashi. She was introduced to African cinemas in Maputo as a program assistant at the Dockanema Documentary Film Festival (2006-2010). Founding member of Picha asbl, she has been involved in the Biennale de Lubumbashi since 2008 as a production manager and film curator. The Biennale is a uniting point for the young art scene of the Democratic Republic of Congo. In Belgium, she was producer for Atelier Graphoui for 7 years (2011-2018), an experimental audiovisual production workspace in Brussels supporting first-time filmmakers. Today, she works mainly as an independent film producer with Twenty Nine Studio & Production, focusing mainly on creative documentaries and artists films. Rosa Spaliviero supports innovative cinema and young filmmakers in their most daring film projects with a strong social or political dimension. She chooses to produce films that show an openness to the world with a unique aesthetic device.
>>> language: Français & English
Registration required before 17 February here.

(limited to 15 participants)
PAM is an inclusive platform and community: if you like to be part of PAM and be kept up-to-date about our (online) meetings and activities, please send an email to info@pam.pm.
Met de steun van / supported by Kunstenpunt.