Collection / Media library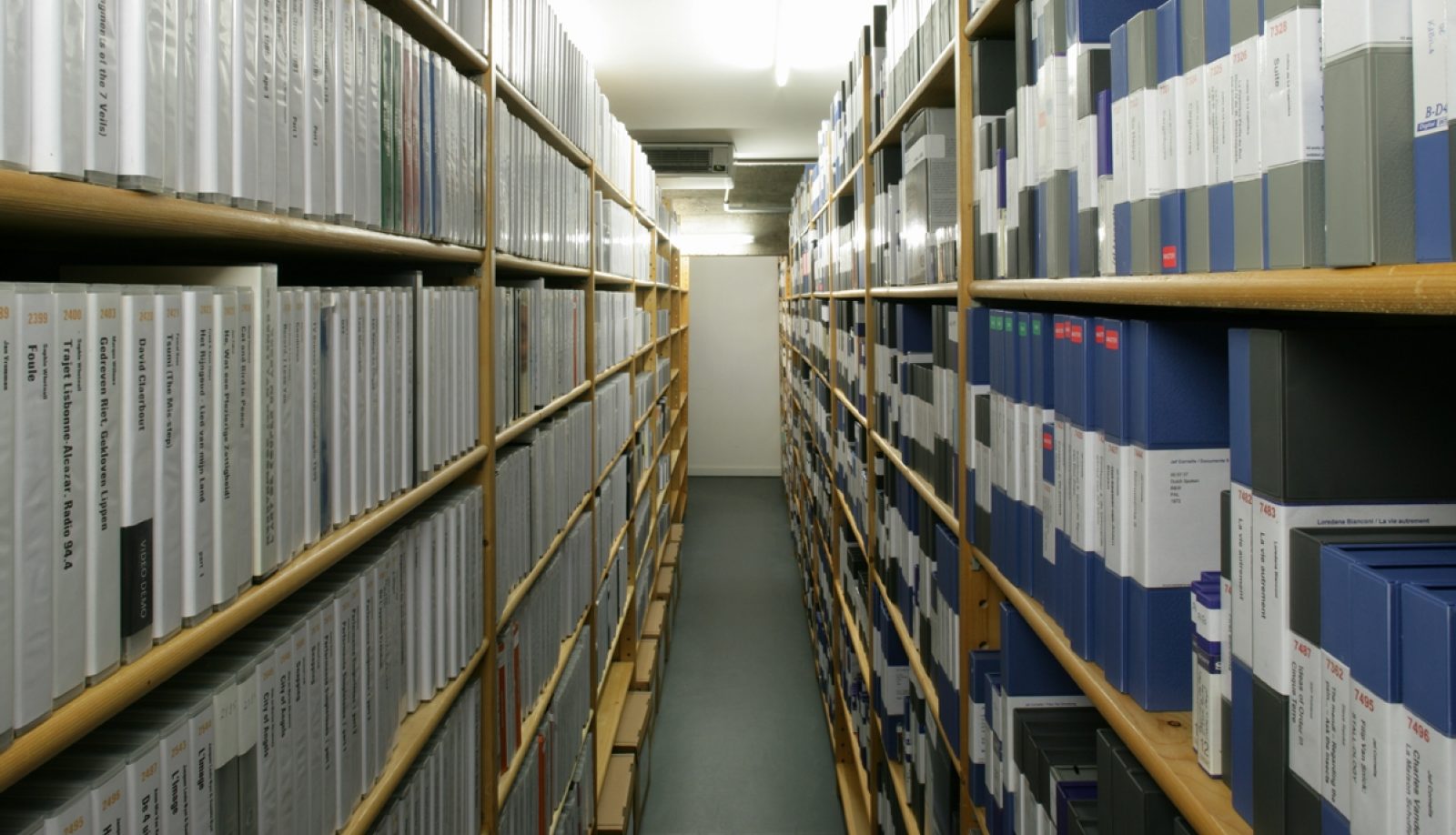 A message from ARGOS:
During the weekend of 15 and 16 August 2020, our facilities – including the archive and media library – suffered water damage as a result of a severe local thunderstorm. ARGOS has made every effort to move the artworks, books, and affected materials to a safe place. At the moment, the works of art as well as the damaged books and magazines are stored at specialised companies.
At the moment our staff is drawing up an inventory. Since this concerns more than 15,000 tapes and 4,000 publications, and they have to be checked individually, this is a long and time-consuming process. This means that our regular collection work and our media library work will be delayed for the coming period.
We are always open to discuss these events with you and thank you for your understanding.
ARGOS houses the richest collection of artist films and videos in Belgium, being a reference for audiovisual arts internationally. With more than 5000 titles covering more than fifty years of production, the expertise and care we bring to building and maintaining our collection is unconditional.
Unlike traditional museum collections, ours isn't based upon the exclusive ownership of art objects. Instead, we hold specific rights with regards to the works in our collection. These include archiving and preservation rights, non-exclusive distribution rights, user's rights for education and scientific research, and screening rights within our institution's walls.
In return, we commit ourselves to archiving and preserving the audiovisual works in our collection in the best conditions. To accommodate this, we develop and implement long-term preservation strategies and pursue proactive archiving policies. This involves the remaining informed about internationally applicable standards, as well as the continuous evaluation of, and adjustment to the latest technical developments.
We further hold unique expertise concerning the degradation of analogue carriers, the obsolescence of playback devices, the digitisation and restauration of analogue audiovisual artworks, and the handling, quality control, and storage of digitised or digital born materials.

Collection in-the-making
ARGOS considers its collection far from complete, but as continuously-in-the-making. It merely presents one specific way of looking at developments in artist film and video, one which is closely linked to the history of our institution. We continuously seek to enrich, adapt, and introduce new perspectives to the collection. For this reason, we invite visiting curators of distribution and accommodate and initiate a broad range of research projects.
We give visibility to the works from our collection through public programming, through the media library, and through small presentations.
At ARGOS, one and the same artwork is often (co-)produced, exhibited, distributed, archived, preserved, and made permanently accessible through our media library. This integrative mode of working emphasises our solid commitment to the many facets of audiovisual arts, as well as our role in building new relationships between institutions, artists, and publics.
Browse our online collection catalogue

This catalogue collects all info about the works in our collection.
If you have specific questions about our collection, or about our archiving and preservation activities, please contact Sofie Ruysseveldt: sofie@argosarts.org or +32 (0)2 229 00 03.